What a week! What a full moon!
As I never tire of saying, full moons bring closure and completion; they signal endings and beginnings. And last Saturday's powerful full moon at 28 degrees of Scorpio did just that. Australia voted to keep Scott Morrison at the helm (he has his natal Neptune at 25 degrees Scorpio, and possibly the Moon in late Scorpio), India gave Narenda Modi a landslide victory (natal Mars 24 degrees Scorpio) and Theresa May finally announced her resignation (natal Saturn at 29 degrees of Scorpio).
At first glance the week of the 20th May looked fairly insignificant. The Sun and Mercury entered Gemini and Mars was happily sextile Uranus, but these unassuming transits were taking place against an ongoing dark and difficult background. Saturn and Pluto, roughly two degrees apart, continue to pile pressure on those of us who have planets and points on or near 20 degrees of the Cardinal signs, and on nations and institutions resonating with those degrees.
I am working with clients who have been under relentless pressure for well over two years, clients who are dealing with an apparently irresolvable set of problems. And, over the past three years, we have seen this same struggle played out on an impressive scale with Theresa May, the British government, the British people, British industry and Brexit.
Thursday, the 23rd was, according to political pundits, the most bizarre day in British political history. There were resignations from the cabinet, absences from the House during Prime-minister's question time – absences from her own back benchers – and there were elections for European MP's for which no one had prepared. It was chaos on steroids.
And in amidst the chatter was the question: how long could Theresa May remain as Prime Minister?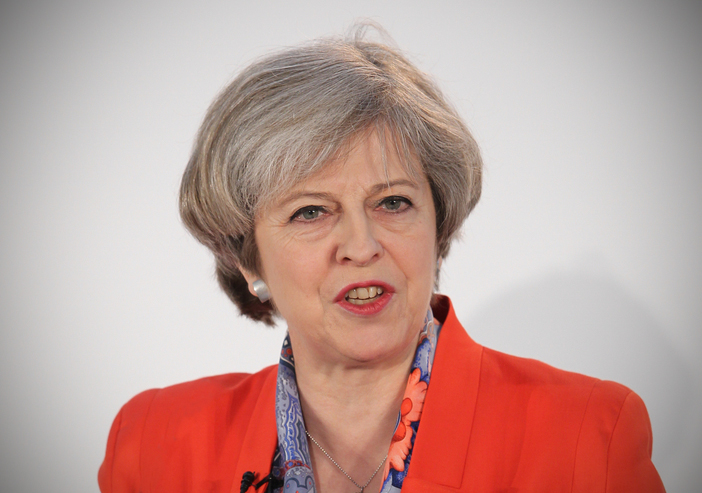 We didn't have long to wait. At 10:03 on Friday, 24th May, the lacquered black door of Number Ten opened and a red-suited Mrs May walked toward the lectern. In a brief speech, she announced she would step down as leader of the Tory Party on 7 June, while remaining as acting prime minister until a new premier was elected. She was dignified, strong and articulate until the very last moment when her voice cracked and tears sprang to her eyes.
We do not have a time of birth for Mrs May, but I have been playing around with a 15:30 birth, which gives Capricorn rising and Saturn conjunct the Scorpio Mid-heaven. And I think we can all agree those dogged Saturn-Capricorn principles are the hallmark of her character. But whatever the true chart, what cannot change is the position of her natal Saturn at 29 degrees of Scorpio. A natal Saturn that was the focus for the previous Saturday's full moon.
At the time of her resignation, 9 degrees of Leo was rising placing the Moon at 7 degrees of Aquarius conjunct the Descendant. And May's natal Uranus is 6 degrees of Leo. Although resignation had been on the cards for months, when that moment came it was abrupt and final, so typical of Uranus.
We cannot be sure that Saturn and Pluto are implicated in Theresa May's struggle and demise, but I suspect they are, which is why I have placed her Ascendant in their sights. But we do know that Saturn and Pluto are squaring Great Britain's Ascendant-Descendant axis and at the mid-point of the nation's Mercury and Venus in Capricorn. The Mid-heaven at the time of Mrs May's speech was 18 degrees of Aries squaring the nodal axis and conjoining Britain's natal Mercury.
While Mrs May's crisis may be over for the moment, for the Tory Party, the government and the British people it is far from finished. And I'm not sure the best is yet to come.